6-27-12 "Noel Coward": The Women of His World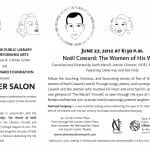 Steven is excited to be the music director/arranger/pianist of Noel Coward: The Women Of His World. Starring: Alan Cox, Dana Ivey, Dee Hoty, Mary Ellen Ashley, Cady Huffman and Jodi Stevens. Reservations: 212-870-1617. Date: Wednesday June 27 at 6:30 pm. Â For more information, click here.
Click here to check out the Playbill article!