2-2-18 "Melodious Memories With Eileen Monahan.."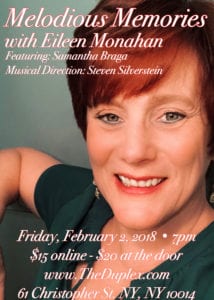 Steven is proud to serve as music director for Eileen's second cabaret. A powerhouse singer with a great soul. Also featured is Samantha Braga. Click here to read the Cabaret Scenes review. Bravo to Eileen and Samantha!
Purchase tickets through either one of the links below. $15 online, $20 at the door.
www.purplepass.com/monahan0202