12-11-11 "Rudolph Unplugged" – returns!! to Westchester County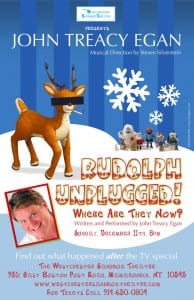 John Treacy Egan is back!
A new "family" version of his show Rudolph Unplugged in Westchester County on December 11 at 8 pm. (My birthday!). Hope you can make it.
And an out of town tryout was performed on December 3rd at the Miramar Cultural Center (2400 Civic Center Place) in Miramar, Florida. Â We opened for Santa Claus!