10-21-18 "Darkness And Light"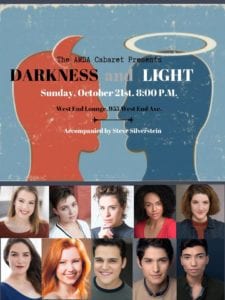 Looking forward to making music with these very talented performers. The second in a cabaret series co-produced by Katie Morrisey & Ashley Benson.
Those performers include:
Shir Kaufman, Clair Ray, Lindsy Thomas, Tyler Fuentes, Einat Propper, Kaisha S. Huguley, Jacob Martinez, Bobby O'Leary, Ashley Benson and Katie Morrisey.